Dome construction
As the name suggests, a dome-shaped construction has a rounded shape, with the radius of the profiles and plastic panels being made according to the project specifications.

We supply domes made from high-quality aluminium or polycarbonate or other plastics, fully tailor-made. The Arcolux dome constructions are made using a proprietary profile system. This system results in a solid construction that enables large self-supporting spans to be achieved. In combination with the chosen materials, this ensures an impact-resistant and strong daylight solution.

The profiles are available in plain, powder-coated or anodised aluminium. The dome can be placed on steel, wooden, plastic or concrete upstands. Our coverings are fully self-supporting but can also be provided with additional structural elements.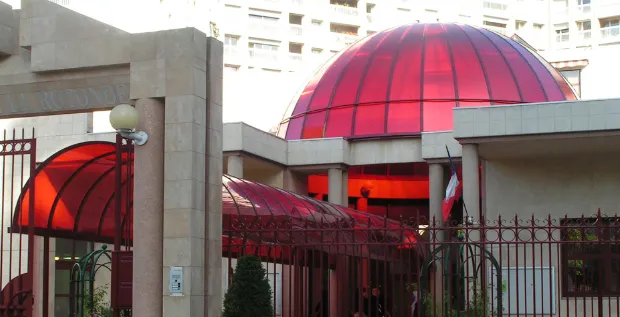 The domes from Arcolux are made from high-quality plastic. The use of plastic makes it possible to realise the desired curved shapes and also ensures that the entire construction, including the aluminium profiles, has a low weight. The plastic is extremely impact-proof, can be made hail-resistant (up to and including HW5) and can offer good insulation values.

Glazing options:
polycarbonate (PC), solid (single, double or multi-walled)
polycarbonate (PC), hollow core panel
acrylic (PMMA), solid (single, double or multi-walled)
lightproof

For each type of panel, we can provide advice in the areas of colours, insulation values (Energy Performance Compliant /EPC), light and sun irradiance values, sun protection, fire safety, fall protection and soundproofing.

Integrated protection from the sun
The plastic panels can be given an integrated sun and heat-resistant coating. The plastic glazing material used by Arcolux is protected against UV as standard.

Glazing with printing
The plastic panels can be given full-colour foil prints to create a unique rooflight (e.g. with your logo).

Insulation:
Arcolux supplies systems with optimal insulation values according to EN ISO 6946 for both the panels (Ug) and the complete system (Uw), for which the latest insulation technologies are used.
Most ventilation systems can be used in the Arcolux domes. From simple, manually operated ventilation vents and grilles to centrally controlled electrical or pneumatic systems for the automatic venting of smoke and heat. See below for an overview of the possibilities.


For stringent requirements in areas such as impact resistance, insulation or fire safety, you've come to the right place at Arcolux. Our aluminium constructions with plastic are tested according to the following Dutch and European standards:


Air permeability (NEN 1026:2000)
Watertightness (NEN 14963:2006 and ETAG 010)
Upward load (NEN 14963:2006 and ETAG 010)
Downward load (NEN 14963:2006 and ETAG 010)
Soft body impact 350/800/1200 Joules (NEN 14963:2006)
Hard body impact (NEN 14963:2006)

The designs and constructions are realised on the basis of:

Eurocode 0 Basis
NEN-EN 1990: Basis of structural design

Eurocode 1 Actions on structures
NEN-EN 1991-1-3: Snow loads
NEN-EN 1991-1-4: Wind loads

Eurocode 9 Design of aluminium structures
NEN-EN 1991-1-1: General rules
Below, you will find the specifications texts for the general definition of an Arcolux dome construction. Arcolux projects are fully tailor-made and, if necessary, we can compile the relevant specification text for you. Please contact us for more information.

Specification text:


Design: Arcolux dome construction.
Clear opening/diameter, free span (mm): 1000 - 16000 (larger on request)
Upstand width (mm) (minimum 50mm.):
Glazing: polycarbonate (PC), solid (single, double or multi-walled), polycarbonate (PC), hollow core panel, acrylic (PMMA), solid (single, double or multi-walled), lightproof.
Glazing thickness (mm): Polycarbonate, hollow core panel: 10 / 16 / 20 / 25 mm.
Polycarbonate or solid acrylic: 2 / 3 / 4 / 5 / 6 / 8 / 10 / 12 mm.
Glazing design: opaque / clear / heat-resistant / coloured / with full-colour foil print.
Glazing profile: dry clamped with EPDM seals.
Profile: standard / thermally broken.
Aluminium type and grade (EN 573-3) (EN AW): 6060 T66
Surface treatment: plain /powder-coated (Qualicoat) / plain anodised / coloured anodised (Qualanod).
Colour (RAL): .....
Ventilation: (none) / industrial vent / thermal vent / SHEVS / light dome in the ridge.
Ventilation operation: manual / electric / pneumatic / wind and rain controller (WRC).
Fall safety: fall-safe construction and glazing 350 / 600 / 800 / 1200 Joules (NEN 14963:2006).
Security features: individual anchor points (DIN EN-795:2012).
Technical documentation

Dome documentation
Detail drawings

1. Detail of upstand

2. Cross-section of curve detail

3. Detail of ridge
Projects with a
 dome / cupola
Installation with
Partners

&

Arcolux itself

Arcolux has an extensive partner network in Europe and its own offices in the Netherlands and France. You can have the installation carried out by Arcolux or one of our partners or you can do it yourself.