Arcolux

light-transmitting roof constructions
Bring more light into your building or home with the Arcolux light-transmitting roof constructions. With our own engineering department and production facilities, we supply rooflights manufactured according to your requirements and design in more than 30 countries. The Arcolux profile concept provides countless possibilities for construction forms, for which both plastic glazing and glass can be used. Be inspired by Arcolux.
The experienced rooflight specialist
If you're looking for a reliable and experienced partner who can implement a complete light-transmitting roof construction for you, then come to Arcolux. For more than 35 years, we've been manufacturing rooflights and roof constructions in both glass and plastic which are tailored to your design to the greatest extent possible. We also provide the correct certification and documentation and offer a range of options for integrated ventilation. At Arcolux, we focus on maximum design freedom, quality and long-term cooperation.
Maximum design freedom
The profile concept we have developed lets us realise special and high-quality constructions fully in line with your design or idea.
Larger dimensions included
In addition to more popular sizes, Arcolux can also create self-supporting constructions with a large free span, implemented in both glass and plastic.
100% project support
We offer extensive support in the design phase and come up with ideas for savings and improvements. We also supply 2D/3D designs, engineering calculations and installation.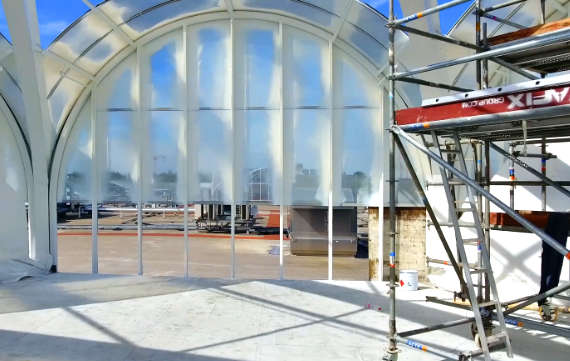 Installation by
partners
Arcolux has an extensive partner network in Europe and its own offices in the Netherlands and France. You can choose whether to carry out the installation yourself or have it done by one of our partners. We frequently work with international architects via our partners and consider it a challenge to be able to implement new or special designs. Are you a contractor, construction company, architect or installation company and would like to know more about our solutions? Then feel free to get in touch with us at any time.
Want to know more? Get in contact
Want to know more? Get in
contact